Eksperimenter i bokbinding
Mitt første forsøk på å binde en bok, og forberedelser
Ny hobby: Bokbinding. Og jeg er kjempefascinert. Jeg har et bestemt prosjekt i tankene som er mitt endelige mål, men jeg vil ikke prøve meg på det før jeg føler at jeg har mer taket på dette. Så det blir nok en del blanke notatbøker en stund fremover. Jeg har sett en million tutorials på youtube, og basert på dem, så har jeg fullført en testbok, som ble litt så-som-så, men uansett så har jeg lært hva jeg må prøve å unngå neste gang. Og så har jeg laget en bokpresse.
Hvis dette er noe som jeg synes er ordentlig gøy, og jeg faktisk begynner å klare å få til så kanskje jeg etter hvert prøver meg på lærtrekk og sånn også. Men det er det lenge til jeg prøver. Vi får se!
Bokpressa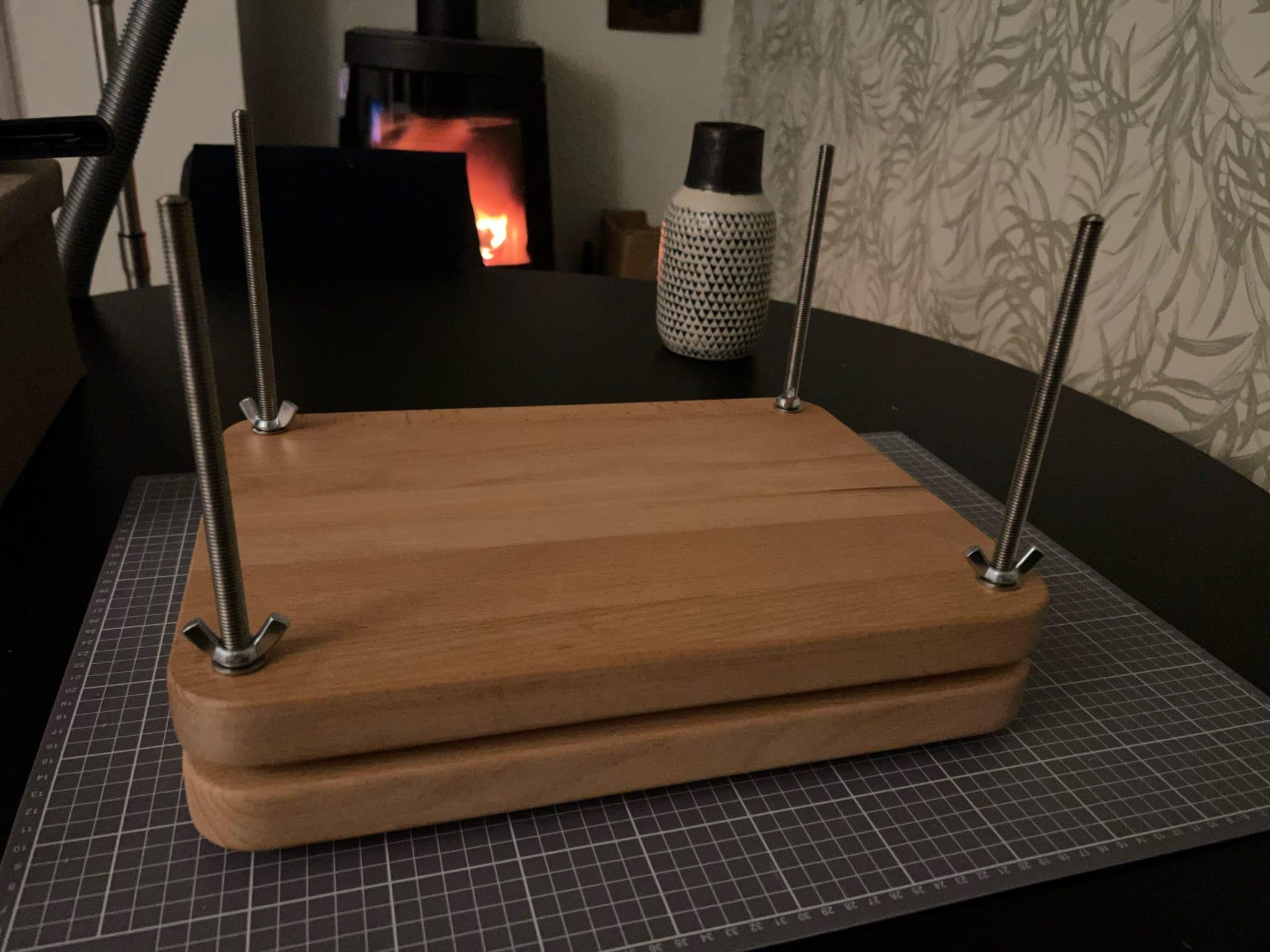 Siden bokbinding ikke akkurat er veldig utbredt eller moderne, så er det vrient å få tak i faktiske bokpresser. De gjerne antikke, av støpejern, blytunge, og kan finne på å koste flere tusen. Uaktuelt for en nybegynner altså.
Etter en del research så fant jeg ut at de fleste som driver med dette på hobbybasis lager en presse selv, av to skjærefjøler som kan strammes sammen i hvert hjørne. Fordelen med denne løsningen er at den er mye billigere, lettere å transportere, og så kan den lett settes på siden for å lime ryggen på boka. Så da bestemte jeg meg for å gjøre det samme.
Utfordring nr. 1: Finne skjærefjøler som tilfredsstiller ens Estetiske Sans™. Jeg kjøpte til slutt et par fra Clas Ohlson. Disse viste seg å være en del tykkere enn jeg først hadde tenkt. Der får jeg for å ikke sjekke alle mål nøye. Men jeg endte opp med å bruke dem allikevel, ellers hadde jeg sittet der med to fjøler jeg ikke trenger. Og det får være grenser for pengesløsing på en hobby jeg akkurat har startet med.
Utfordring nr. 2: Finne lange bolter. Alle tutorials på nett for bokpresser bruker lange bolter med skruehode i enden. Det klarte jeg ikke finne noe sted. Så jeg endte opp med å kjøpe en gjengestang på XL bygg, pluss muttere, skiver etc. Heldigvis så har fatter'n masse verktøy og utstyr, så fikk hjelp med å kutte stanga i 4 like deler. Med en mutter i enden så fungerer det bra som en erstatning for en bolt.
Opprinnelig, hvis jeg hadde funnet bolter, så hadde jeg planlagt å prøve meg med en håndrill selv, men siden jeg allikevel skulle innom han far, så fikk jeg hjelp til å drille hull i fjølene også. Tror det var like greit, så ble det ordentlig rett.
Hvis jeg skulle endret på noe, så tror jeg ikke boltene trenger å være fullt så lange. Jeg kommer nok aldri til å trenge å presse en så tjukk bok. Ville også valgt fjøler som var litt mindre massive. Men det kan jeg jo alltids fikse en gang senere, om jeg føler for det.
Boka
Coveret ble ikke helt bredt nok, og mellomrommet mellom ryggen på boka og coverne ble også for lite. Så boka mi åpner ikke helt opp. De sier at man må være nøyaktig når man måler, og det er visst ikke tull. Tenk det! Det er vrient å kutte nøyaktig med bare kniv, så lurer på om jeg skal ønske meg en papirkutter til jul.
Neste gang tenker jeg at jeg vil kjøpe ordentlig stoff til coveret. Siden dette var mitt første forsøk så brukte jeg bare et gammelt putetrekk. Jeg har også bestilt noen bøyde synåler fra ebay, som skal gjøre det litt lettere å sy sammen arkene i boka.
Det var overraskende vanskelig å finne papp som hadde riktig tykkelse og stivhet til å lage cover av. Jeg endte til slutt opp med å kjøpe en gaveeske fra Flying Tiger, for å kutte opp. Den var egentlig perfekt! Men de koster 50kr stykket. Som et engangskjøp så var det ikke så ille, men det hadde jo vært ålreit å finne noe billigere. Og kommer jeg til å få tak dem når jula er over? Må jeg hamstre noen?